Read to Succeed Buffalo CARE Child Care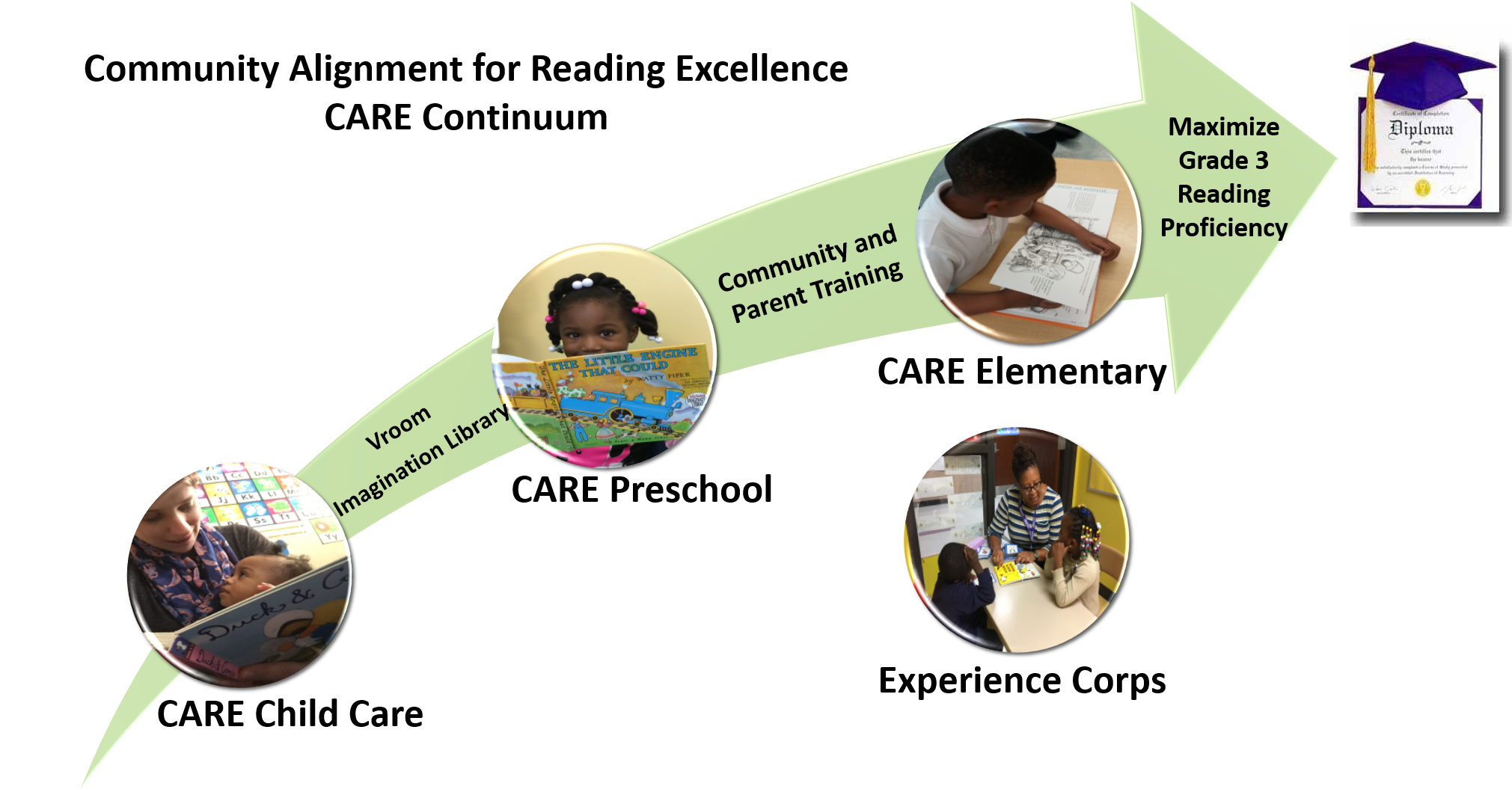 CARE Child Care is the foundation of this RTSB continuum of high quality language and literacy resources. CARE Child Care is a quality improvement literacy infusion program for licensed home child care providers operating in the City of Buffalo. CARE partners with these professionals, bridging the gap between learning theory and practice, ensuring that your child receives the high quality care and individualized attention they need to be school ready.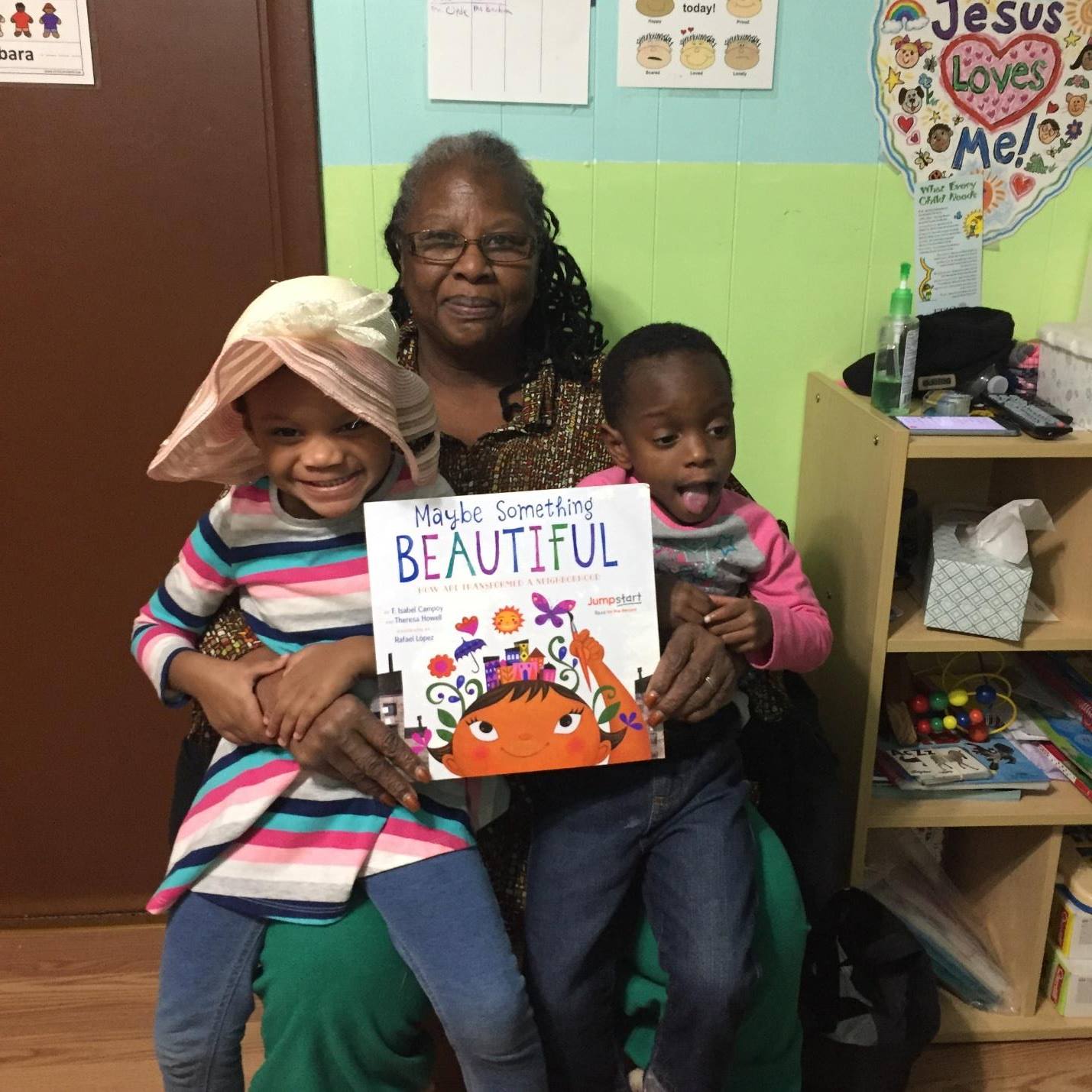 CARE improves child care and classroom quality by working with providers/teachers in their program over two years. With the support of RTSB's early literacy intervention specialists, CARE Child Care integrates the five steps of early literacy growth - language and vocabulary, comprehension, letter knowledge, sound and print awareness - in home based child care sites and Head Start programs.
CARE Child Care scores a child care program's quality improvement efforts through the use of Environment Rating Scale (ERS) tools. ERS tools create quality improvement plans for the school year that are specific to the needs of the caregiver and the children in their care. The tool measures items in child care such as: space and furnishings, personal care routines, listening and talking, activities, interaction, program structure, parents and provider/staff.
CARE Child Care also uses age-appropriate screening measures to ensure that infants, toddlers and preschoolers' communication, problem solving, personal social and motor skills are on track. RTSB's goal, in partnership with knowledgeable and caring child care professionals, is to make sure that all children benefit from the best possible care as early as possible!
CARE Child Care, funded by a grant from the United Way of Buffalo & Erie County, promotes the utilization of CARE graduate sites including:
ABC Learn & Play, Tiffany Malone, Director
Antoinette's Angels Quality Child Care, Liahna Davis, Director
Barbara's Babies Day Care, Barbara Greer, Director
Brinson's Family Day Care, Tricia Brinson, Director
C'mon Let's Play!, Yolanda Rozier-Sayles, Director
Christine's Educational Child Care, Christine Elliott, Director
Core of Learning, Latricia Henry, Director
Colorful World, Valarie Bates, Director
Cyn's Heavenly Angels, Cynthia M. Russell, Director
God's Design, Beatrice Nix, Director
Grandma's House, Stefanie Calloway, Director
Growing in Grace Child Care, JoAnn Rhines, Director
Growing in Grace 2, Kandis Y. Rhines, Director
Home Away From Home Day Care, Casandra Rush, Director
Jayden's Playhouse, Tanya Calloway, Director
Kids Time Group Family Day Care, Debbie Ransom, Director
Lana's Land of Learning, Yolanda Beaner, Director
Ms. Dee's GFCCC, Dionne Norman, Director
Ms. Lisa's, Lisa Chambers, Director
Miracles Day Care, Susan Birl, Director
My Baby's Day Care Inc., Darniece Faison Douglas, Director
My Precious Angels Child Care, Felicia Doctor, Director
Nurah's Nook, Barbara Dixon, Director
Scott's Garden Child Care, Cynthia Scott, Director
Something Special, Renee Benning, Director
Starlight Family Daycare, Codelia Coble, Director
Up, Up & Away, Catrice Huff, Director
Current participating sites include:
ABC Learn & Play 2, Tiffany Malone, Owner
Appleseeds 123 Day Care, Nichole Minter, Owner
Puddle Jumpers, Tanya Calloway, Owner
Gingerbread House, Latasha Simpson, Owner

CARE Child Care
Embedded support - work directly with providers in the context of the child care programs. Conduct fidelity observations to support the enhancement of literacy instruction and ensure it is being conducted consistently, accurately, and as intended. Use the Environment Rating Scales to assess interactions and the materials, activities and features that support interactions.
Assessments and Data - support the administration and analysis of child screening Ages and Stages Questionnaires® (ASQ-3) and other assessment data. Conduct progress monitoring to quantify students' response to instruction and evaluate the effectiveness of instruction.
Planning and Reflection - time allocated to discuss observation data, analyze and interpret child data and plan for intentional instruction to meet RTSB program, child care program, and individual targets.
Professional Development - support the continuous process of acquiring new knowledge and skills. Design and facilitate professional development modules to support providers.
Results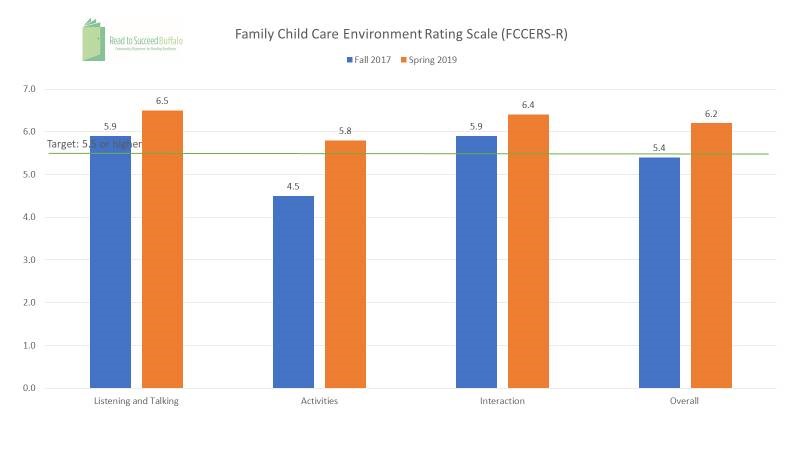 ASQ-3™ is a reliable and accurate way to identify children who are in need of further assessment. When delays are caught early in many cases, help can be provided to the children to ensure they are ready for kindergarten.
This developmental screening is composed of 21 questionnaires for a child between 1 month and 66 months of age.
Each questionnaire contains developmental items organized into five areas: Communication, Gross Motor, Fine Motor, Problem Solving and Personal-Social.
The Environment Rating Scales (ERS) broadly define the environment focusing not only on the arrangement of space, but also including the materials and activities offered, interactions that occur, routines, and activities.
In order to provide care and education that will permit children to experience a high quality of life while helping them develop their abilities, a quality program must provide for the three basic needs all children have: safety, positive relationships, and stimulating language and learning from appropriate educational experiences. Quality care takes all three working together. These are the key components that are included in the environment rating scales.