Literacy conversation focuses on birth to third grade plan
Tuesday, April 25th, 2017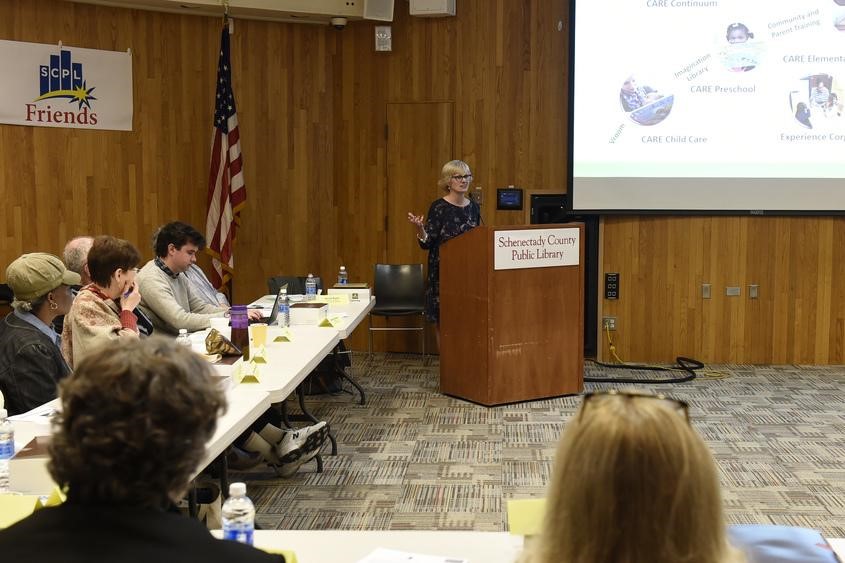 by Zachary Matson
Representatives from organizations across Schenectady said they were interested in continuing conversations about building a community coalition to improve early childhood literacy.
But the leaders -- Schenectady school officials, the Schenectady Foundation, Schenectady County Library, childcare providers, local churches and reading volunteers - have yet to home in on how a coalition would form, what it would look like, who would lead it or how it would be funded.
"We did not know going in whether there would actually be interest," said Rosalind Kotz, who along with her husband, Scot Felderman, is facilitating discussions about the literacy issue on behalf of the library. "Over the last two sessions we have seen the interest, but an individual raising their hand is not enough."
The second of three "community conversations" on the topic hosted at the library through a Schenectady Foundation grant drew around two dozen people Friday afternoon, including four Schenectady school board members. The group listened to a presentation by Anne Ryan, executive director of the Read to Succeed Buffalo program.
Ryan's program works with children, parents, childcare providers and Buffalo public school educators to foster literacy skills in low-income children from birth through third grade. At the earliest ages, the Read to Succeed program provides books to children and works with parents to understand the importance and best ways to read to their children. The program works with certified childcare providers about how to incorporate effective literacy education into their work, and it works with the school district to monitor students' literacy progress and guide teachers to improve instruction.
But the focus is on tying the different organizations and individuals involved in caring for and educating children together into a seamless "continuum" of consistent and research-based literacy education and development.
"We are building that continuum of informed practice," Ryan said. "It's not a (age) zero to four plan or a four to eight plan; it's really both."
Ryan warned that the challenges of improving literacy and reading skills in high-poverty communities are immense.
"I'm not sure there are successful scaled program anywhere," she said. "These are very, very complicated and complex problems; it's a huge continuum and I'm not here to say Buffalo has the magic bullet."
As a city, Buffalo has also organized around the Campaign for Grade Level Reading model, which operates as a framework for cities, counties and other communities to create coalitions around the literacy issue. Ryan told the Schenectady group that they "had the bones" to build a literacy coalition during Friday's meeting.
As the group discussed what a Schenectady coalition might look like, they talked about the challenges of engaging parents and funding an effort that by definition would need to bring together organizations that are "in silos" because they are funded by a disparate collection of grants and other sources. But they were also optimistic about the programs that exist in Schenectady and the potential to stitch something together that would more effectively meet the needs of the community's children.
"The exciting thing for me is I'm at a table and having a conversation, and we are all trying to deal with the same thing," said Kerri Messler, English language arts coordinator for Schenectady public schools.
A third "community conversation" will be held Tuesday and focus on early childhood screening. It remains unclear what, if anything, will follow after that.
"There is a lot of complexity, but the bottom line is all of this is within our capacity," Felderman said. "We have a role within each of us and our organizations to contribute."